South Boulder Peak
March 16, 2005
I sent out this note on Tuesday to recruit friends for an early run on Wednesday:
Hi all,
The tree of freedom must be periodically renewed with the blood of tyrants. It certainly is the case with South Boulder Peak. I suspect it is still untrodden since the snow on Saturday. Join me to free it from the icy grip of untracked snow. I ran Bear Peak on Monday morning and it was nice conditions. Slippery on the way up, but not due to ice. The snow was unconsolidated. This made for nice descending conditions. I suspect we'll have a bit more ice tomorrow, but probably still not too bad up here. I recommend screws just in case, though. Monday Kahtoolas would have probably worked great, but that's almost always overkill.
Where: South Mesa Trailhead
When: tomorrow, Wednesday, at 6:15 a.m.
Objective: South Boulder Peak
Pace: semi-tempo - no chance for a good time, but hopefully go up in under
an hour. Roundtrip around 1:40, I hope, so back down by 8 a.m.
Bill
<![if !supportEmptyParas]> <![endif]>
I got this response from Dave Mackey, one of the best trail runners in the country and owner of numerous course records:
Have fun . If you (or anyone else who goes) can do it in 1:40 in these conditions i am buying the burrito from Illegal Pete's.
I was now supremely motivated and told my friend Stefan who would be joining me that we had to summit by 1h05m (my PR is just under 53m) or it would be over, but I knew I really needed to be closer to an hour and under it to have a good chance. It all depended upon how much snow was up there. I knew it would be untracked for a long way. I had a couple of aces in the hole, though. First, Jeff McCoy was going to be the rabbit and start early. I was hoping he'd make a track clear to the summit and we'd catch him on the way down. This didn't happen, as we caught him very early in Shadow Canyon, but he did break trail for 5-10 minutes of the canyon.
My chances improved considerable when Chris Parks, former winner of the Imogene Pass trail run, said he was showing up. He'd do most of the trail breaking to the summit. Now I just needed to suffer.
I pulled into the parking lot just before 6:15 a.m. Chris was there and Stefan was right behind me. Jeff's clock was running on his dash and he had 20 minutes on us. I was surprised that he only had 20 minutes on us. The lowest time I had previously seen was 57 minutes. I knew we'd catch him far below the summit. It was up to Chris now. We started at 6:20 a.m. and I led the first 14 minutes – out to the service road. This was a strong pace and the footing was great, mostly dry, some ice. Stefan was already a ways back. I think it is too early in the season for him to really suffer. When he's in shape, I'm the one off the back.
Once we hit the service road, Chris went by, but I worked hard to keep him in sight. We crossed the creek and started up steep Shadow Canyon in just under 22 minutes, also a good time, but things changed now, as expected. Only one set of tracks went up the canyon, those by Jeff, and we passed him pretty early, slapping some high-fives as we went by. Above, Chris went off the trail a couple of times as the snow obscured the route and he had never been up this trail before. I'd take the lead each time, but not for long. I'd wave him by saying, "I'll never make if I have to break trail." He'd go by and gap me, but not by that much and I always kept him in sight. With him breaking trail, I could almost keep up. It was a heady feeling staying close to a guy like this.
We hit the saddle at 53 minutes. Under dry conditions it is 6.5 minutes to the summit from here for me. Today it took 9.5 minutes in the deep, slippery snow. Crawling over the talus at the summit was slow and dangerous as well. I topped out about a minute behind Chris in 1h03m. We still had a shot to break 1h40m and I led down off the talus in snow over my knees in spots. Once back to our track, I descended with reckless abandon. A little too much, as it turned out. I slipped just before I was to jump a log and mashed it hard with my shin. That left a mark…
<![if !vml]>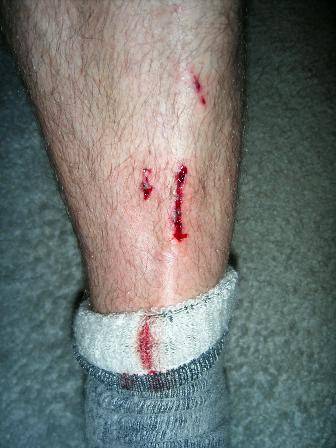 <![endif]>
We slapped high fives to Stefan and Jeff as we descended and Chris took the lead at the top of Shadow Canyon. About halfway down, he stepped to the side and urged me to take the lead. I think he was surprised that I was keeping up. I had probably my best descent ever. I flew down the trail with abandon and never stumbled and never fell. I made no mistakes and the snow made for quicker descending that I could have done in the rocky conditions of summertime. We descended from the summit to the creek, including the really slow first 90 seconds off the summit, in 16 minutes. This is a descent of around 2000 vertical feet, on twisting, turning, rocky, snow covered singletrack. That sealed the deal and it was an easy jog into the finish. At least it could have…
Chris flew by as soon as we hit the wide service road. I yelled after him to take the Homestead Trail on the way down, as I always do that when summitting South Boulder Peak. It's a bit slower of a descent, since it has a climb on it and some flat running at the end, but I knew I had the time and then could compare it to my previous times. He didn't hear me, though, and didn't know the Homestead Trail anyway. He descended Towhee. I did as well, but only for two minutes, before turning onto the Homestead Trail and climbing up a short hill. I was pretty tired now, but tried to work hard. I didn't though and my heartrate dropped. Oh well, I had done the work when I needed to.
Chris finished in 1h32m?s and I finished in 1h3420s. Nice. I'm going to really enjoy that burrito from Mr. Mackey… Actually, it probably isn't fair to collect. Dave wasn't counting on me having Chris Parks along to do all the hard work of trail breaking. Chris definitely deserves a burrito. Probably one from Dave and I!
I waited around for fifteen minutes, but Stefan nor Jeff returned. I had to get going, so I left. Chris had to go even earlier, so after some fun reveling in our good time, he took off. I hope Stefan and Jeff got down without any injuries.
Table 1: Splits
<![if !vml]>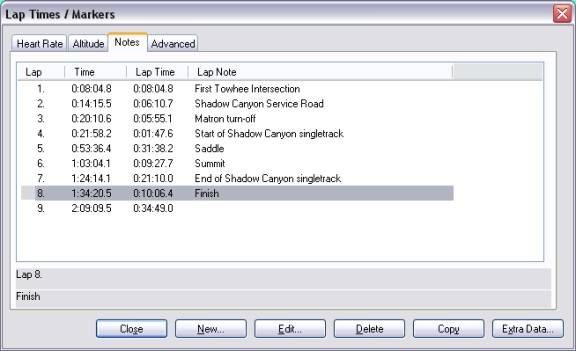 <![endif]>
<![if !vml]>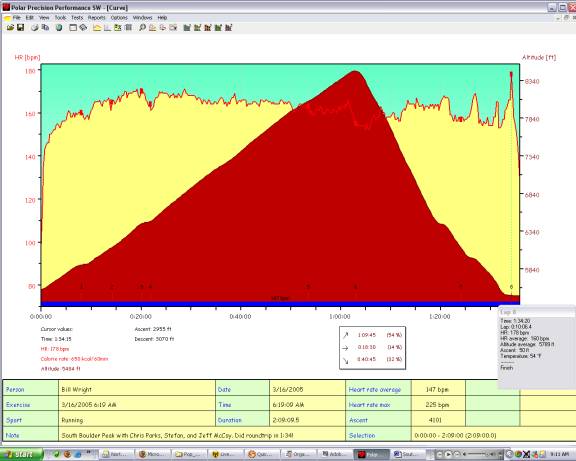 <![endif]>
Figure 1: Elevation and Heart Rate profile.
Bill