Bolder Boulder 2005
May 30, 2005
Our family tradition of running the Bolder Boulder 10K entered its 13th year today. Sheri and I calculated our rivalry over this distance and before this race it stood at 7 wins for Sheri, 4 wins for me, and one dead heat. It would be Daniel and Derekís third year running the race and our third year as a big family outing. This year we tie-dyed our race T-shirts in a bright yellow color and we stuck out nicely from the others in this 50,000-person race.
For the third year, Sheri and I would be doing the ďdouble.Ē This means we run the race hard in our wave (AA) and then immediately run back to the car, change into our family shirts and training shoes, pick up our cameras and head back to the start to meet the rest of the crew to do it again! I always run with Derek and Sheri stays with Daniel. My Mom stays at our house the night before and takes the boys down to the start where they meet Brook and her family.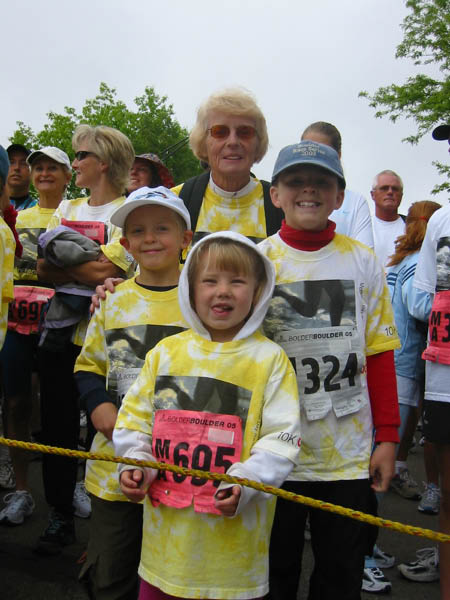 Sheri and I left our house at 5:45 a.m. and my sister Kim and her friend Julie, along with our neighbor Jeff McCoy, all joined us for the ride down. Kim had been on a tough training program devised by Sheri, but hadnít been feeling very strong lately. She knew she was in for a tough go. For the second year in a row, I was trying out radical training program, which involved no running at all, but lots of road biking.
We parked by Moeís Bagels, used their bathroom, and then stripped down to our racing outfits. It was just 50 degrees out and overcast. It had just been drizzling earlier, but wasnít raining as we headed for the start. We jogged the 1.5 miles down to the start, stretched, did some striders, used the bathroom again and got into our starting waves.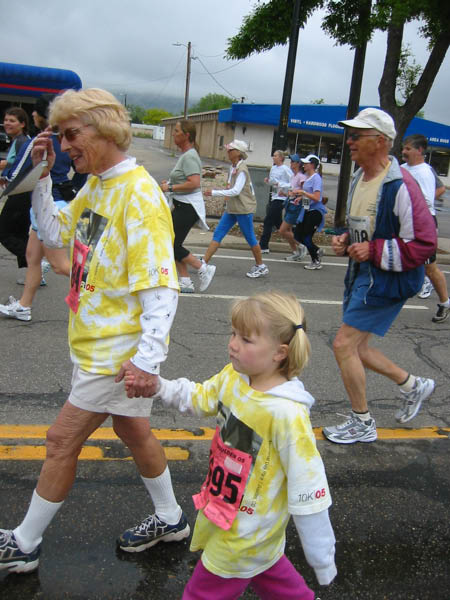 Sheri and I went off in the second wave, at 7:01 a.m. In the past Sheri always leads me for the first two miles. Frequently she leads the entire way, but if I am going to pass her, it seems to happen at the end of two miles and today things went according to form. I went through the first kilometer in 3:51 Ė sub 39-minute pace! Way too fast, but itís a fast start and it felt easy. I started to fade immediately and pretty much continued the fade throughout the race. My second kilometer was 4:07, but I was still under 40-minute pace with a 7:58. My first mile was 6:20, but I was already going slower than that.
<![if !vml]>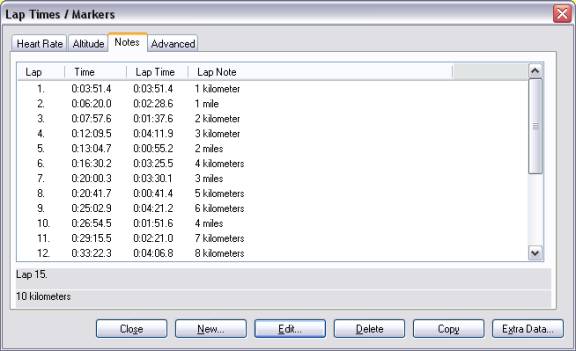 <![endif]>
I had been following right behind Sheri and this was unusual as she is normally further ahead. Iíd find out later that Sheri was having some stomach trouble and even barfed a bit during the race. I inched ahead of Sheri just past the two-mile mark. I went through 5K in 20:41, now on a sub-42 pace. I had told Jeff McCoy that this was my goal for the day and knew I was in for a bit of suffering in the second half.
<![if !vml]>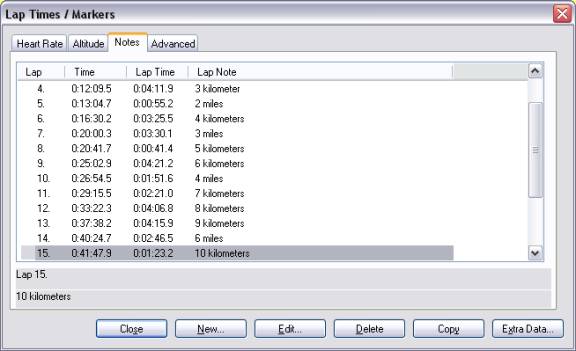 <![endif]>
People seemed to be constantly passing me and that made sense because my pace was getting slower. I worked hard in the fast 5th mile to try and give myself a cushion to break 42 and it worked out okay. I was expecting Sheri to come by me around the end of the 5th mile because thatís when she usual does, but it didnít happen today. I worked hard to the finish, especially up the final hills and finished in 41:47. Sheri was just five seconds behind me. We are always so closely matched in this race. There is something about it. I get lucky on race day and Sheri usually has a tough day. In other races Sheri kills me. In this race, it is a close battle, but Iím still behind in the standings.
I never like to beat Sheri. Many might not believe that because they think I'm so competitive, but it's true. This is Sheri's arena, not mine. I want to do well, of course, but I'd prefer it if Sheri did even better. With the limited running I've been doing beating her only means one thing: she had a bad race. Who wants to win against anyone under those circumstances?
<![if !vml]>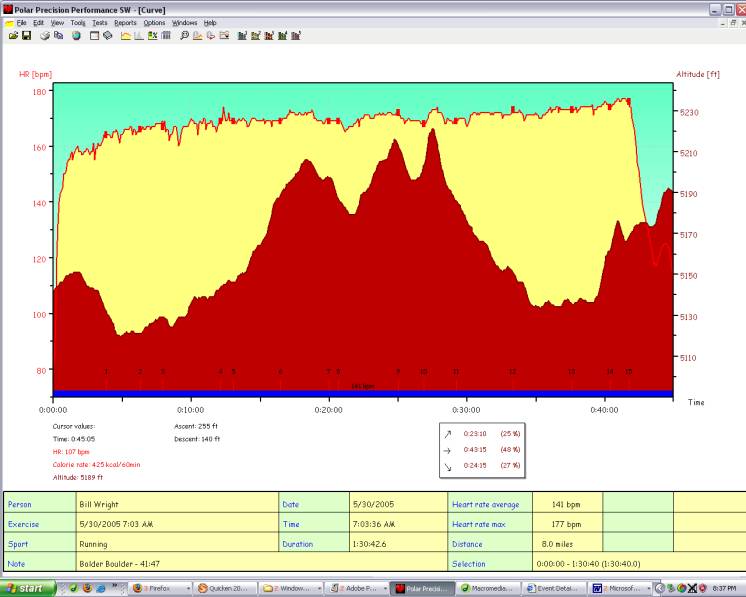 <![endif]>
Figure 1: My heart rate and elevation profile for the race.
We immediately headed out of the stadium (the race finishes in Folsom Field on the CU campus) and back toward the start. We lingered on Folsom street to watch Kim go by. As the minutes ticked by we knew that she was having a bad race. She passed us by with a defeated, dejected look on her face. I felt sorry for her. She had trained hard and it had all gone very well, but it just didnít happen today. She finished in 50:02, well off her goal time.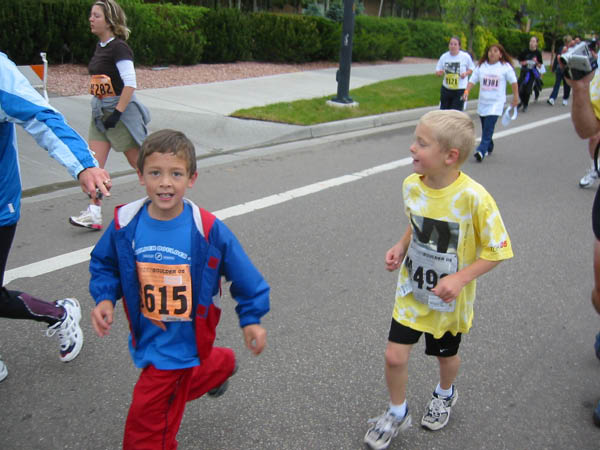 We trotted back to the car, got our stuff and headed for the start. I stopped in at King Soopers to pick up two packets of Skittles. We reward the boys with a Skittle at each kilometer and mile banner. We found the boys at the start and helped them strip off their extra layers. I carried a pack for my video camera, extra clothes, Skittles, walkie talkie, extra shirt, etc. I felt like Opie running this race! I ran this entire race with my digital video camera in my hand. Derek worked me and I was beat by the end of this day. I figured I covered about 16 miles.
Last year Derek ran 1h15m and we were gunning for 70 minutes this time Ė 7 minutes per kilometer. Daniel led Derek right from the start and would constantly pull away the entire race. He paced it very well and ran a huge PR of 1h06m Ė 8 minutes faster than last year. He was very excited with his time. Derek ran his first kilometer in 6:19 Ė way ahead of pace. At the first mile marker we met with his good friend Ryan (also 7 years old) and his mom Christine. We ran with them for about 1.5 miles before we dropped Christine. Ryan continued with us. I told Christine where we would be in the stadium, but we never saw her again. Ryan stayed with us and we eventually took him home to his house, after calling his dad on the cell phone when we got back to our truck, but this would be two hours later.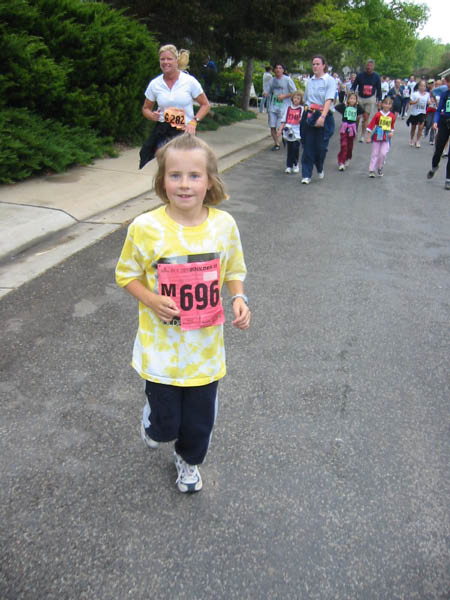 Ryan and Derek were well matched and paced things well. Our paced faded a bit on the tough middle miles. When we caught and passed Gabby and Kraig Derek surged a bit too much for just after this he developed a painful cramp and we had to walk for a bit. Derek was a bit upset at having to do this since last year he ran the entire way non-stop. That was a huge feat last year, but I told him not to worry about it and that walking isnít a big deal. Itís better to walk a bit and finish with a faster time than to run the entire way at a slower time. He soon recovered, but we had to alternate running and walking the rest of the way, though he still ran probably nine kilometers of the distance.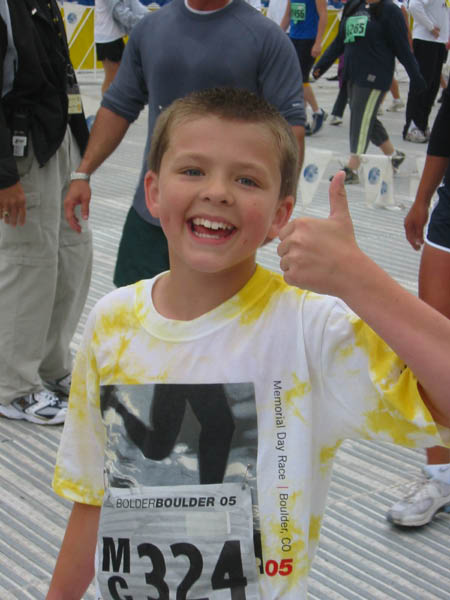 Ryan was doing great in the early going, but with two kilometers to go it was his turn to hurt. This was his first time running the Bolder Boulder and he was doing very well. He started one way in front of us, so would have a time about a minute slower, but he probably could have stayed with us the entire way. Derek really was determined in the last half kilometer and worked hard up the first hill and then picked up his pace all the way to the finish, where he unleashed a really fast kick to finish in just under 1h13m. Hence, Derek cut nearly 3 minutes off his previous best time. Ryan finished just ten seconds behind.
We looked up to our meeting location in the stands I immediately saw Sheri and Daniel. I knew Daniel had to have had a great race because it takes at least five minutes to get from the finish to where they were. Indeed, he did. Last year he had to come from behind, battling a side cramp, to beat Derek. No matter how bad the cramp hurt, he wasnít going to let his little brother beat him. This year was a bit of redemption for him. He showed heís still the boss of the road races to his little brother. They both did very well.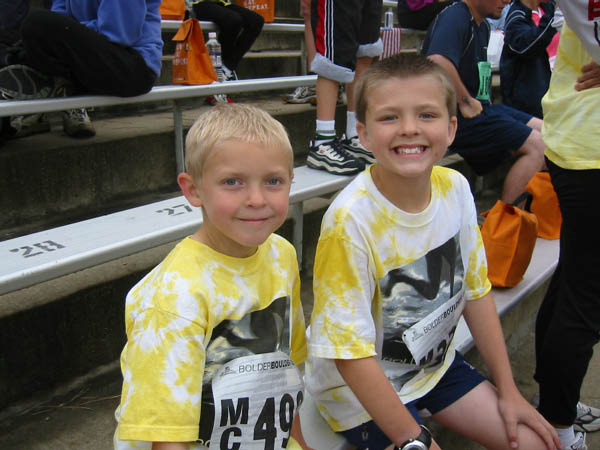 We met up with everyone in the stands and many had a good race. Samantha had a huge PR and so did her sister Gabby. Brookís third daughter, Marissa, usually the toughest of the three even though she is the youngest, had a tough day. She decided she wasnít going to do it and walked very slowly from the start and Kim, who also went back to do the double, had to carry her for two miles. Anyway, a another Bolder Boulder was in the books. We retreated back to the house for a hot shower and had a fun BBQ party at our house, though we had to stay in side as it rained hard most of the rest of the day.
Sheri was 3rd in her age group, which is about as low as she ever places. When she is not pregnant or recovering from pregnancy she is always 1st or 2nd in her age group. I placed 12th in my age group and this was "in the money" since starting this year age-group awards are going down to 15th place instead of the historical 10th place. Kim finished in 21st place. Derek in 19th place, and Daniel in 57th place.