There and Back Again

Zoroaster Temple, Minion Style, April 30, 2005
You know how your parents told you how things were so much tougher in their day? Well, this is truly an adventure that is "uphill both ways."
With around 2000 vertical feet to go, I noticed our rate of ascent had drastically slowed. Fatigue was finally taking hold of me and I was crashing. Trudging up the South Kaibab Trail at 9 p.m. by the light of my cell phone, I was singing songs with Stefan and Buzz. Behind us, and having a tougher time, was Homie. Homie is one of the toughest guys I know. On all our adventures, I have seen him wasted only once or twice. This was one of those rare times. It's somewhat comforting to know that even he can get wasted. I wish I could have been strong enough to stop and help him, but I wasn't. He was a thousand vertical feet deeper into the inky blackness.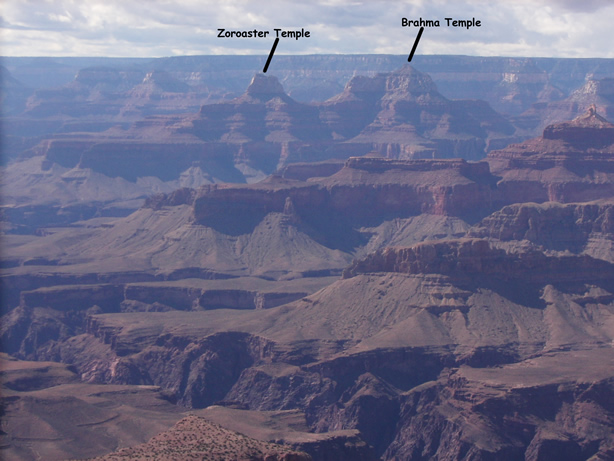 Actually Homie was the impetus behind this trip. He read about John Harlin Jr.'s one day ascent of Zoroaster Temple in the Grand Canyon and posted it to my speed climbing web site as the fastest known time. Usually Zoroaster is climbed over three days since the 5-pitch route is located 15 very difficult miles from any road. One usually approaches Zoroaster by starting at the South Rim and descending 7 miles and 5000 vertical feet down to the Colorado River where you cross a bridge and hike 4.5 more miles up the other side to where you leave a trail and go cross-country up a stream, through a cliff, along a ridge, through more cliff bands, up fixed lines, etc. I had climbed this tower using this 3-day strategy in 1996 with Opie. Harlin's time was 22 hours.
John Harlin Jr. is the editor of the American Alpine Journal and I've written the Yosemite summary for the Journal the past three years. Hence, we traded a few emails, though I've never met him. Before we left for the Grand Canyon I sent him an email about our plans. I joked that he'd assuredly tell me that a rack of six #4 Camalots was required for a safe ascent. He responded with this:
Bill,
I'm afraid you're right about the Camalots. But really it's the full rack of pitons (in particular the bong-bongs) that weighs you down. There's no way you can climb Zoroaster without a doubled A5 rack.
You can certainly beat our speed if you do any running and if you don't have to posthole through knee-deep snow (as we did on the last few hundred yards), don't have an ice-coating on the first pitch, and don't go off-route on the second pitch like I did. Yeah, it was waaayyy burly, and if you go faster than we did, then it's all because of the adverse conditions we encountered. Don't forget that. I even forgot to tell you about the hangnail I had; wicked.
It sure was fun. Good luck!
Let me know how it goes, please.
Cheers,
John
John's a pistol. I was glad to hear about John's tough conditions as it increased our chances of besting his time. I certainly wouldn't want to compete with Mr. Harlin on a level playing field. To further my advantage I brought along the most important gear of all: outrageously fit and motivated partners!
I sent out an email to a select group of Boulder uberathletes and recruited ultra-adventurer Buzz Burrell, enduro-cyclist-5.12-climber Stefan Griebel, and solo-winter-14er-alpinist Homie Prater. The plan was to drive down in my RV on Friday, blast the roundtrip on Saturday and return on Sunday. A massive spring snowstorm hit the day before we left and added some excitement and uncertainty to the roadtrip.
At the last minute Alan Doak joined the team. He wasn't a trail runner, but he was a hardened adventurer who had just done the first one-day ascent of the Hallucinogen Wall (VI, A3) in the Black Canyon. He'd also done the Longs Peak Triathlon before, so he was used to long, hard days. When he pulled up to my house at 4 a.m., Alan leaped out of the car. So determined was he to show his worth to the team that he immediately volunteered to take the first sleeping shift. I was touched. He'd sleep until nearly noon, getting more sleep that morning than I do in a typical night.
It was snowing hard when we left town and it continued until nearly Grand Junction. Driving over the passes was stressful. The most intense moment of the trip was when I nearly crashed into a Volkswagon Touareg coming down the west side of Vail Pass. I was closing on the Touareg and touched the brakes to slow down; when I did I began to slide and my backend slid around to the right. I was bearing down on the Volkswagon, pumping my brakes furiously. It wasn't going to be enough. I was going to hit it and there was nothing I could do about it. But there was something the driver of the other vehicle could do. I started furiously honking my horn and yelling "Go, dude, go! I'm going to hit you!" Of course he couldn't hear me, but I was so pumped with adrenalin at this point. I closed to within a few feet of his bumper and braced for impact – an impact that thankfully didn't come. The driver finally hit the gas and pulled away. Now I was fishtailing. I turned into the slide one way and then the next. Stefan, riding co-pilot, said, "You've got it. You've got it." And indeed I did. I straightened it out and proceeded at a more cautious pace for the next twenty miles or so, just until my heart rate returned to normal.
We swapped drivers every couple of hours and arrived at the Grand Canyon in twelve hours. It was cold here and the high the next day was projected to be only in the mid-50's. Climbing on the shaded north side of Zoroaster would be chilly and we packed for cold weather.
I took an 8.2 mm 60-meter rope as my lead line and Stefan had a 9 mm 50-meter. We'd need two ropes to get off the tower. Buzz and I would form one team while Homie, Alan and Stefan another. My rack consisted of a blue, two green, two yellow, two red, and an orange Alien; two #1 Camalots, and one each of #2, #3, and #4 Camalots, plus a set of stoppers and seven slings. After doing the route I'd trim the stoppers, the blue and green Aliens and take only one yellow Alien.
After packing, we headed out of the park to National Forest land to sleep. I set my alarm for 3:20 a.m. Colorado time – we kept our watches on Colorado time. One advantage of this is that the wake-up call seemed later. Subtract one hour to get local time.
The next morning I drove us to the parking on the main road. You're not allowed to park at the trailhead, but the walk to the trailhead is less than ten minutes. We started down at an easy trot at 4:11 a.m. It wasn't long before we had to stop and strip off a layer of clothing, as it was a lot warmer than we anticipated. Less than an hour down, we were in shorts and short sleeves, despite it being completely dark still. My only light was my Nokia 5410 phone, which has a built-in LED flashlight, along with a compass. It is a true adventure phone. Of course, I had no service in the canyon. Can you hear me now? Nope!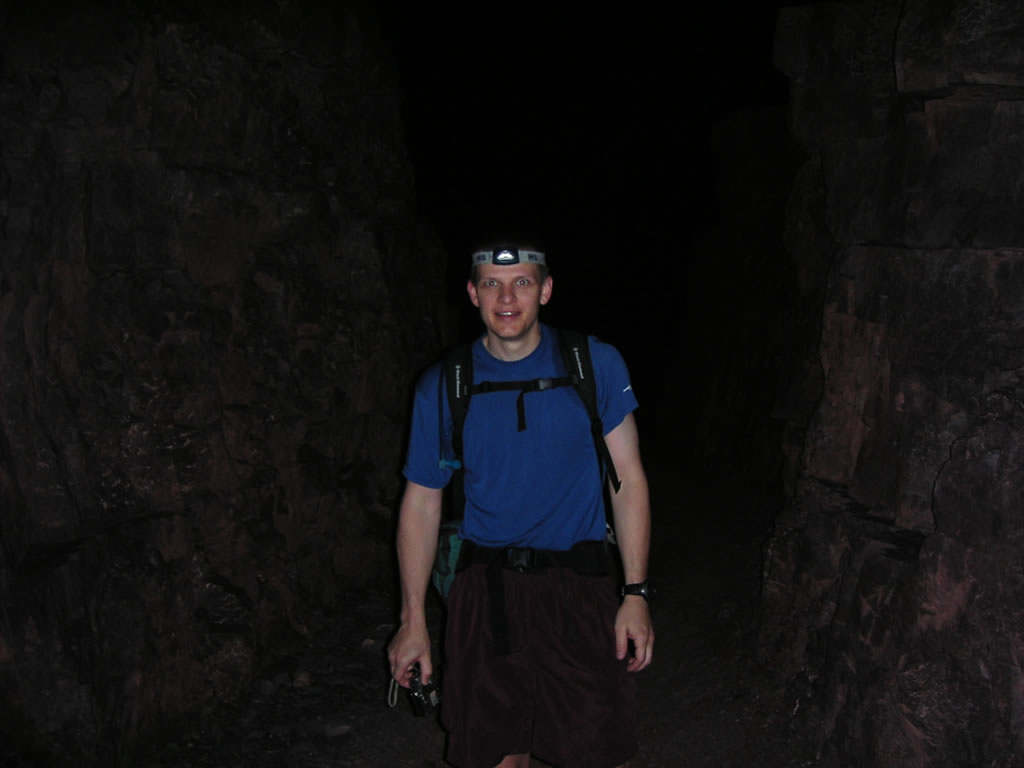 Homie on the early morning descent of the Kaibab Trail.
Homie led nearly the entire way down to the Black Bridge, which crosses the Colorado River. We got here in 1h37m, but had dropped Alan and Stefan way behind us. I knew Stefan was staying back with Alan and I knew this would be the toughest part for Alan. He isn't a runner and this would be about the only section we'd run. Our time to the bridge was 8 minutes faster than when I had done the Rim-to-Rim-to-Rim run/hike with Mark Oveson a number of years ago and this time we were carrying considerably more weight due to the climbing gear.
Homie, Buzz, and I got to Phantom Ranch in 1h52m. Here we loaded our packs with 100 ounces of water, had something to eat, and waited, impatiently, for Stefan and Alan to arrive. Stefan walked up first saying that Alan was out. Damn. His knees and hips couldn't take the downhill pounding. Running down 5000 vertical feet with 20+ pounds on your back can't be good for you. We were disappointed to lose a team member so quickly, but if he was already hurting this was definitely the right decision because things would get much worse for the knees. Alan would spend the rest of the day by walking a bit up the north side and then hiking out via the Bright Angel trail and taking a shuttle bus back to the RV. This is still a huge day by normal standards and he had a great time.
The four of us continued north on the Kaibab trail for less than half a mile before turning onto the Clear Creek Trail and climbing steadily for 1500 feet up to the Tonto plateau. We continued around to the Sumner Wash where we left the trail, less than an hour after leaving Phantom Ranch. We hiked up the wash, boulder-hopping and scrambling where needed, until we hit the Redwall. This is the key break that allows access to Zoroaster and, while certainly a weakness in the imposing cliff band, doesn't look passable from a distance.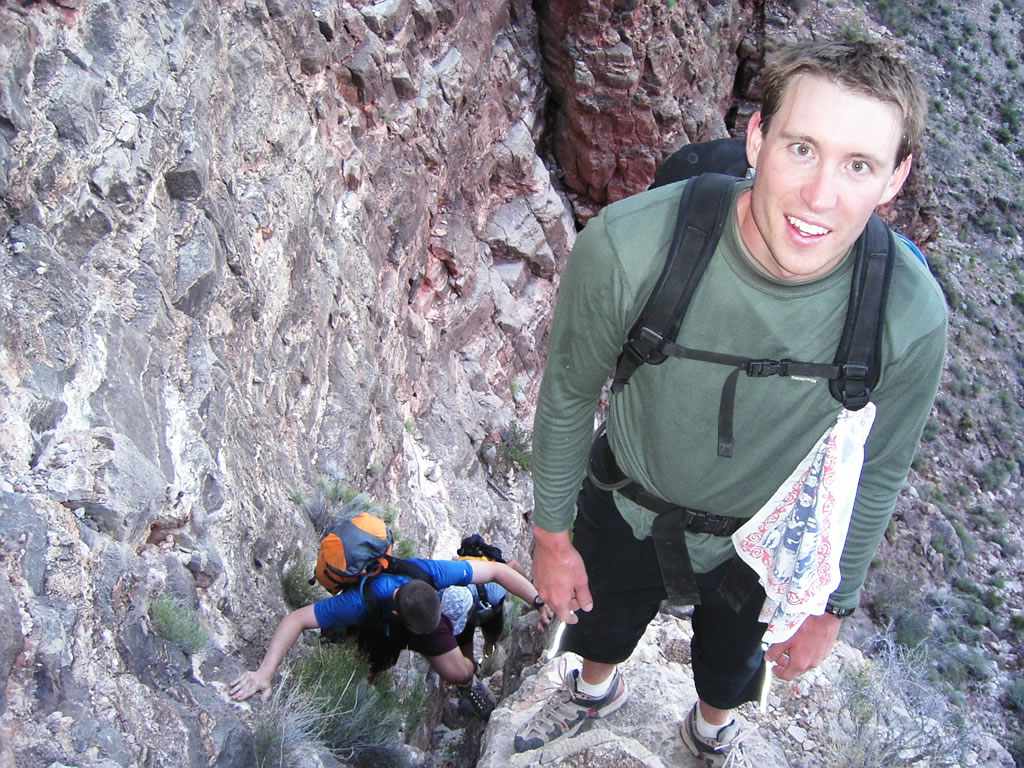 Climbing through the Redwall
Surprisingly, the climbing up the Redwall goes at 4th class. That is, if you go the right way. I promptly led everyone astray by starting too far to the right and was too bullheaded to turn around. We did some dicey, vertical 5th class climbing before we gained the easy ground above. We even broke out the rope for a quick, impromptu belay at one point. The rest of the way went easily and we were at the saddle less than an hour after leaving the trail.
We now headed east up to the next cliff band. The approach to Zoroaster is through at least four cliff bands, with the final one being the crux. 4th class chimneys solved the next two short cliff bands. A spectacular walk along the ridge above had us marveling at our incredible position.
The final cliff band appears impossible without serious aid climbing. We ran right up against the western end of it and then started traversing on the north side. We were on a steep ramp that was only maybe a hundred feet high with towering cliffs above and below us. Finally, we turned a corner and the cliff above wasn't monolithic any longer. It was broken into a series of shorter cliffs. With some scrambling and the help of three fixed ropes, we breached this final obstacle. What remained was a very steep, loose dirt / talus field, nicknamed the "Killer Talus Slope" by veteran Canyon mountaineer George Bain.
<![if !vml]>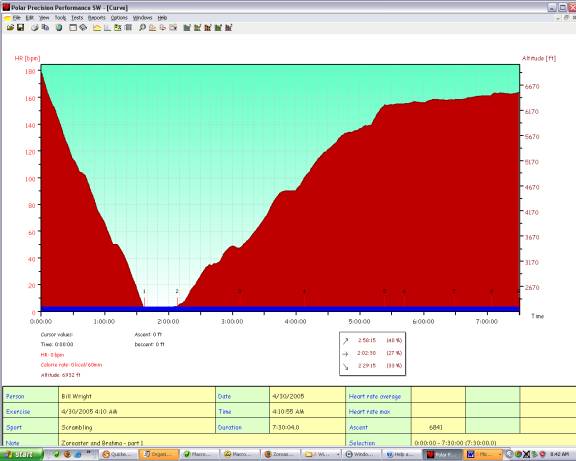 <![endif]>
Figure 1: The profile (elevation vs. time) of our approach to Zoroaster.
We ate some and geared up. I started leading the first pitch at 9:53 a.m. When I climbed this tower in 1996 I think we started hiking on our first day around 9 a.m. The first pitch went quickly and easily, over a neat little roof and then up a leaning ramp/flare to a belay from slings around a tree. The next pitch was my one concern. I hadn't led it on the last trip and I knew Opie was concerned. It involved some dicey, runout stemming up something called the Needle's Eye Chimney. Fifty feet up the pitch I was confused. Where did this pitch go? Where was the Needle's Eye Chimney? I noticed a vertical, sandy crack above me with a fixed stopper in it. I knew previously we had been well to the right, but all I saw out there was a featureless sandy slab. I climbed up to the crack, placed a piece and then tried to go right. I came to an impasse. I could see the ledge above me, only ten or fifteen feet, but there weren't sufficient holds to allow me passage. A fair Alien below my feet and a big gap to the next piece had me thinking this wasn't the place to take a 20+ foot fall. I downclimbed back to a lower ramp that led further right. My companions were telling me this is what the topo showed. I knew what was on the topo as I was here before with Opie and he drew the topo. It didn't look possible, but I traversed this ramp up and right and then made a dicey step across to the base of a big dihedral leading to a huge roof. I was hoping the groove above and left of this would lead upwards, but it was just a seam. I climbed up and left to the same blank face section and contemplated it again. There was a tiny edge here, but that was all. The footholds were just sandy smears and I had no guarantee that the next divot above would be anything positive. It was too risky.
I took another look at the steep crack and knew it was the only way to go. The crack wasn't that long, fifteen feet or so and ended into a big bush on the ledge I wanted to gain. I had previously rejected the sandy holds and steep climbing as too difficult, but now it looked like the only way out. I placed a bomber #1 Camalot, moved up and clipped the fixed stopper. I retreated for a rest. The holds above were very sandy and sloping. I didn't think I could do it free and called down to Buzz to give me tension when I got up to the stopper. To my surprise, I found a slightly better hold and then stemmed to a sandy foothold that had been hidden before. I hung on and placed a yellow Alien before doing a couple more moves and grabbing the branches above. I breathed a sigh of relief as I pulled onto the ledge, knowing that we would be continuing up.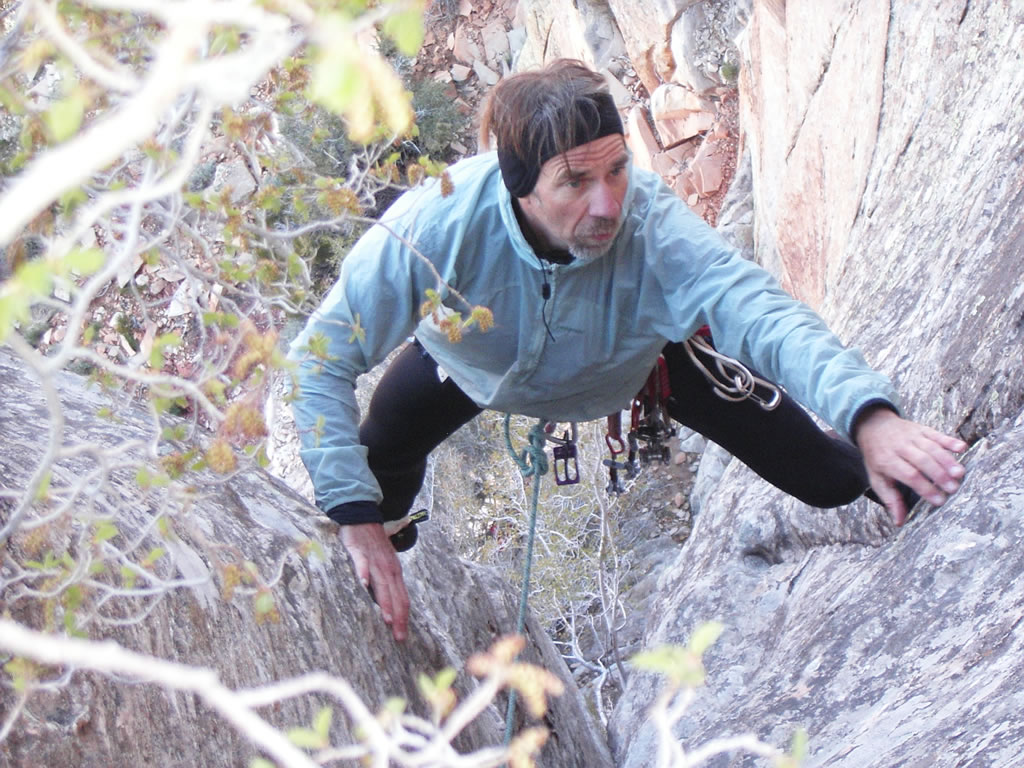 Buzz Burrell climbing the first pitch of Zoroaster.
So, what happened to this pitch? The Needle's Eye Chimney has fallen off! It is no longer. The pitch is now harder at a scary 5.9.  This variation certainly existed before, but was probably rejected because it was steep and intimidating. But the new section is very well protected. It's scary only because the rock is so sandy and the holds could break. I did break off one hold while climbing it.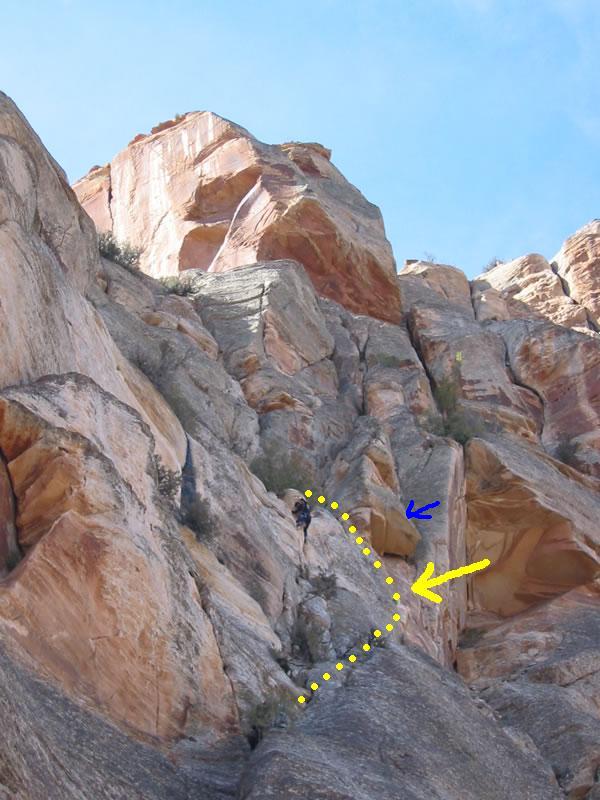 This photo shows me leading the "new" 2nd pitch (5.9). The dotted line shows the old 2nd pitch and the yellow arrow indicates where the Needle's Eye Chimney used to be. The blue arrow denotes where it broke off. The photo below shows the blue arrow in the same location and here the Needle's Eye Chimney still exists. The photo below was taken in 1996.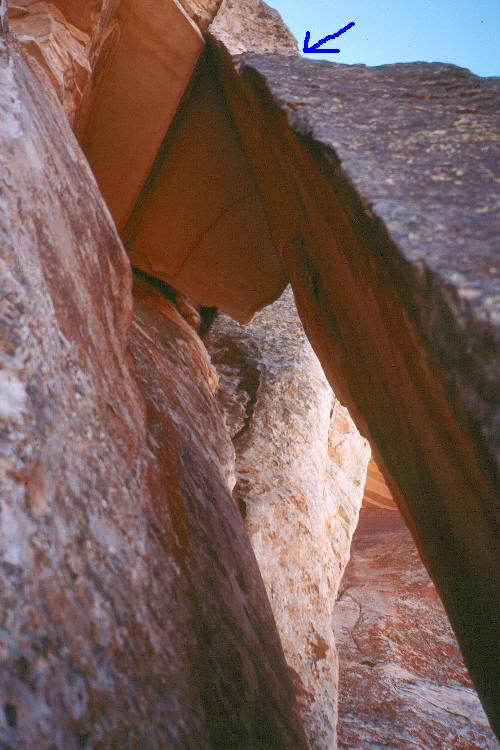 The next pitch follows an intricate path but is the best way to climb the tower. I first ascended a chimney/slot between the main wall and the left side of a small pinnacle. It is possible to continue up from here and if you did, you'd arrive at the top of the second rappel. But to continue from there you have to traverse right across an unprotected, lichen-covered, scary-looking, 5.7-rated-but-I-doubt-it slab. Instead of continuing upwards, I downclimbed the right side of the pinnacle and traversed a bit further right into a chimney system. I climbed up to the base of the chimney proper and stopped to belay Buzz up.
The 5.8 chimney pitch is the first really good climbing pitch on the route. The main draw to climbing Zoroaster isn't the quality of the climbing. This isn't Indian Creek and the rock and climbing is miles from that quality. You climb Zoroaster for the adventure. It feels like an alpine climb more than a rock climb. You are most definitely climbing a mountain.
Above the 5.8 chimney pitch is the final, short 5.9 crack. We had previously called it an offwidth and others had as well, but Harlin's description said it was neither offwidth, nor strenuous, nor runout, nor 5.9. I agree with half of this. Indeed this crack is not a true offwidth, though it takes large cams. I was able to always get a hand jam with my left hand. I protected the crack nicely with just a #3 and a #4 Camalot and then two smaller cams up higher, so it is not runout. I do think it is 5.9, though, and I think it is moderately strenuous. Buzz agreed with this latter point, though it was his first 5.9 "offwidth" ever. At the top he said, "What a grunt!"
We were done with the roped climbing, but not yet on the summit. We had to hike a hundred yards or so over to the final limestone cap. From a distance this forty-foot mini-tower looks imposing, with its dead vertical walls, but up close a neat 4th class chimney reveals itself. Buzz and I climbed this vertical chimney and emerged on the summit 8h26m after leaving the South Rim. We figured the record was in the bag, but we were about to become educated…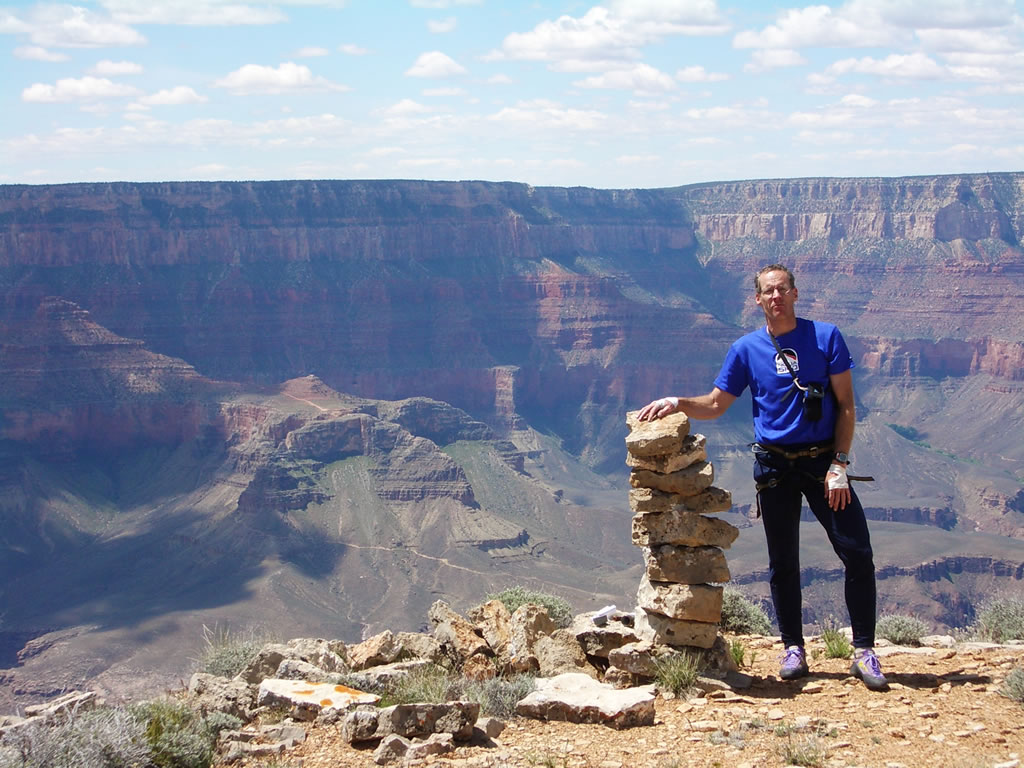 This is me on the summit of Zoroaster Temple.
I found and read through the summit register. We were just the second team to climb Zoroaster this year and the last ascent before that was in October of last year. It appears that the tower is climbed less than five times a year. I found out that doing this tower in a day from the rim isn't as rare as I thought. I first saw a time of 9h45m from the rim. Impressive, but we were still faster. Then I saw a time of 8h30m. We barely beat that time, but it wouldn't have mattered as much since this team came from the North Rim! This is much shorter and much less vertical, but requires climbing over Deva and Brahma Temples enroute. I'd love to know their exit strategy. Reversing the route might be easiest, for descending to the North Kaibab trail via our descent route would leave them with a 15+ mile hike back to their starting point. Then I read the most amazing entry yet. On April 28, 2004 Brian Harder and John Doskicz wrote this in the summit register: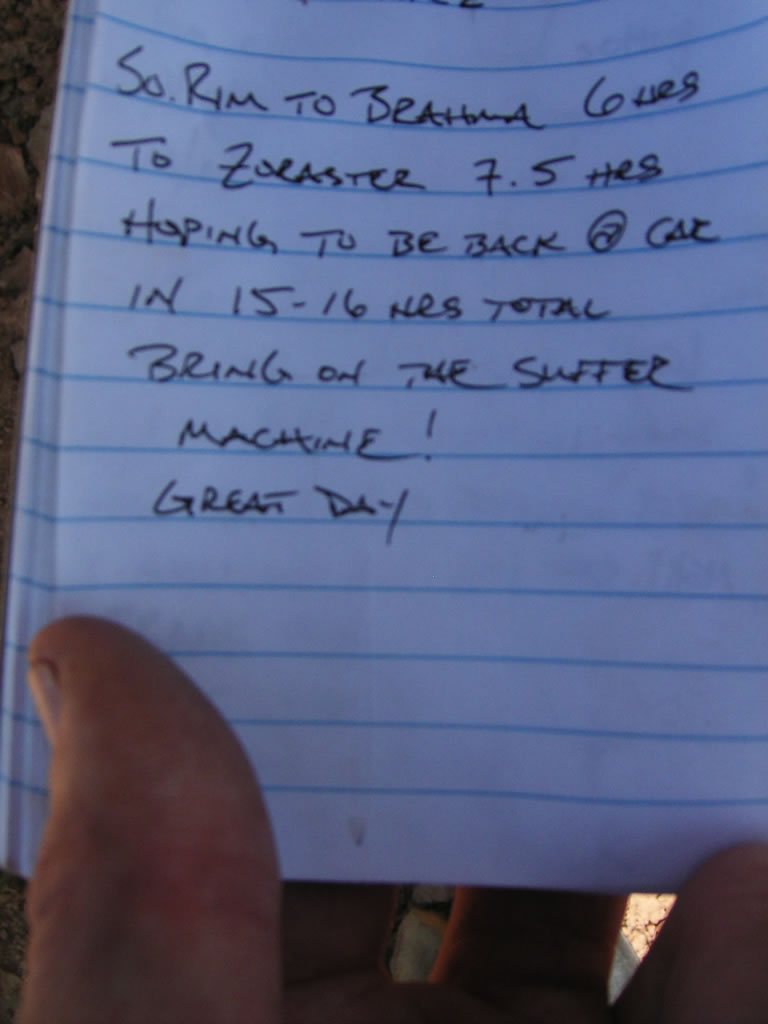 The time to Brahma is impressive to be sure, but our pace could have put us on top of Brahma in 6.5 hours. But the time from Brahma to the summit of Zoroaster is Dean Potter-esque. This would require climbing Zoroaster in 30 minutes and this means either as a single simul-climbed pitch or as a solo, unroped ascent. Soloing Zoroaster, with its questionable rock, would be very dangerous. Stefan and Buzz at first deemed this to be flatly impossible, but I don't think it is impossible, just world class. Who are these guys? We Googled them when we got back and found that Harder is a climbing guide with an 11-hour solo of the Grand Traverse on his resume. Doskicz is also a very accomplished climber and trail runner, so they have the background for such a fast time.
But their projected roundtrip time doesn't make sense. 15-16 hours would be a very slow pace on the way out, much slower than their approach. If they climbed Brahma in 6 hours, then they probably got to the Brahma-Zoroaster saddle in around five hours. Rappelling Zoroaster would take 30 minutes, upping their total elapsed time to just eight hours. If they go out at the same pace as their approach, they'd return around 13 hours. What is the extra 2-3 hours for? I have another theory. Their time "to Zoroaster" means to the base of the route. Perhaps they left their watches on the ground with their packs. Then if they did a fast roundtrip on Zoroaster of say 3.5 hours (we did 4.5 hours), they'd be at 11 hours total and 15-16 hours would be consistent with their pace up until then. I'll try to contact these guys and find out. Either way, we didn't know if we had the record for Zoroaster or not, but it didn't look good. One thing was certain, though. We had to now go climb Brahma Temple!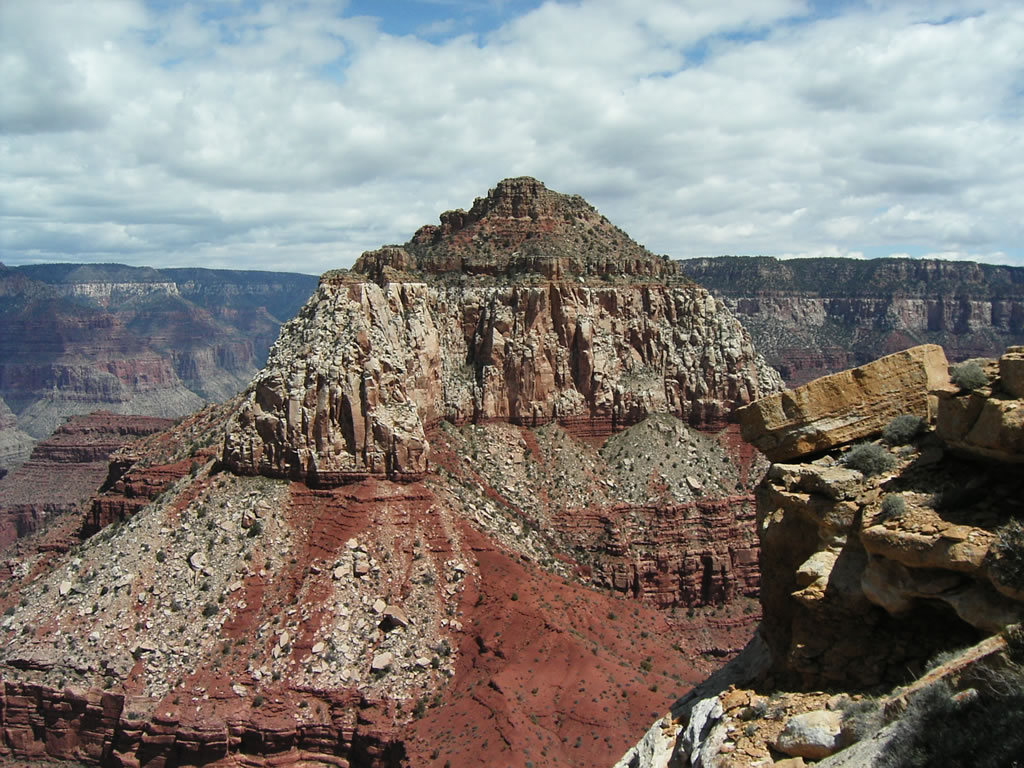 Brahma Temple from the summit of Zoroaster Temple.
Buzz and I waited for thirty minutes or so for Stefan and Homie to arrive on the summit. To save time, I had photographed all the summit register pages for Homie, as I knew he'd want this. While these two took a moment to enjoy the summit, Buzz and I descended and setup the first rappel. It wasn't long before they joined us. We did four rappels to the ground, three long and one short. We had our ropes get stuck on us once, but it wasn't the usual stuck-rope problem. We inadvertently threaded the wrong rope through our last anchor and had to pull it back up to fix it, but we couldn't pull up the rope because it jammed in a crack below us. I rappelled a single line to free the stuck line and then continued to the ground.
After the others got down and we changed back into shorts (all except Stefan, who didn't have any shorts and started to roast a bit), we carried our packs down to the Brahma-Zoroaster saddle and dropped them there. It was a mile of tricky traversing along the steep west slopes of Brahma to the ascent route and a thousand feet of vertical gain to the summit. We took nothing with us but cameras and headed off.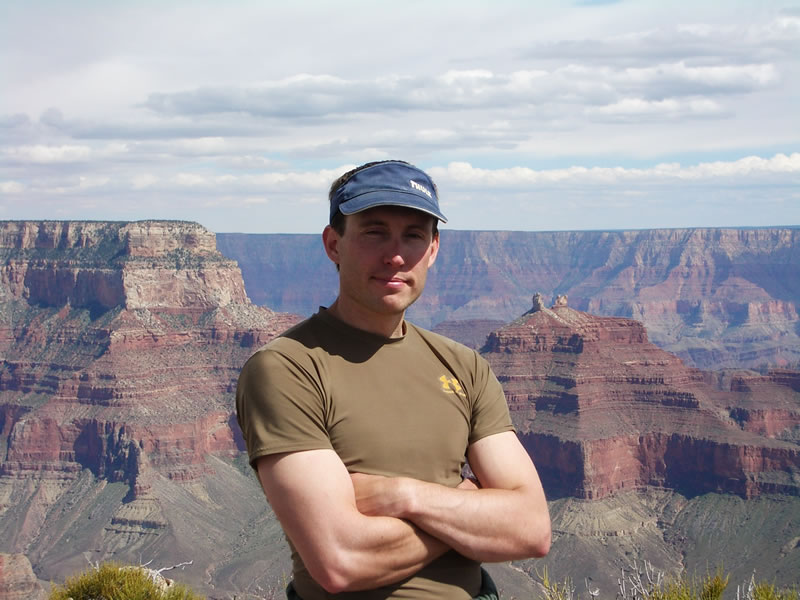 Herr Griebel on the summit of Brahma.
We climbed up first to the base of the cliff and then traversed along on tricky, steep, loose dirt and talus slopes. The hiking was very physical and it took us about thirty minutes to arrive at the obvious break marking the ascent route. It is the first place where it was possible to leave the ground with climbing easier than 5.10. The route is 4th class and involves some great scrambling and some not-so-pleasant 3rd class loose-gully climbing. Once on top of the summit plateau it was a long ways back to the south to the actual summit. It took us 55 minutes from the saddle to gain the summit. Here Stefan located a canister with just a few names in it. The lack of names is probably more due to people not finding this tiny register, but I don't think this temple sees many ascents either.
<![if !vml]>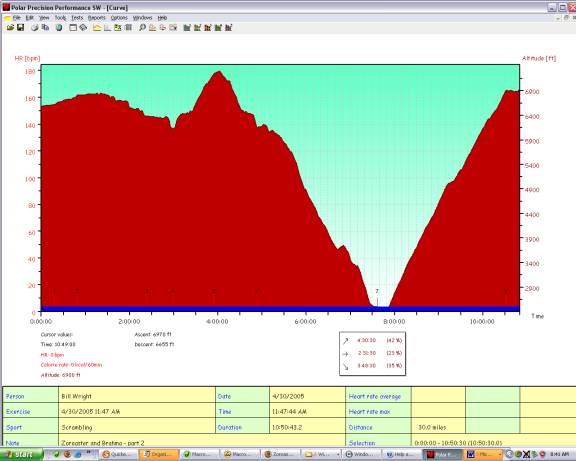 <![endif]>
Figure 2: Our elevation profile  from Zoroaster to Brahma and back to the rim.
It was nearly 5 p.m. and we were 15 miles from salvation, five of those miles over tricky ground. To top things off my knees were giving me severe problems. My IT bands were inflamed and each step downward caused me pain. Thankfully I only had 5000 vertical feet of tricky talus and downclimbing to go. Before starting up Brahma I took four ibuprofen from Homie's stash. Upon returning to the saddle I took three more. Vitamin I definitely helped me get back down to Phantom Ranch.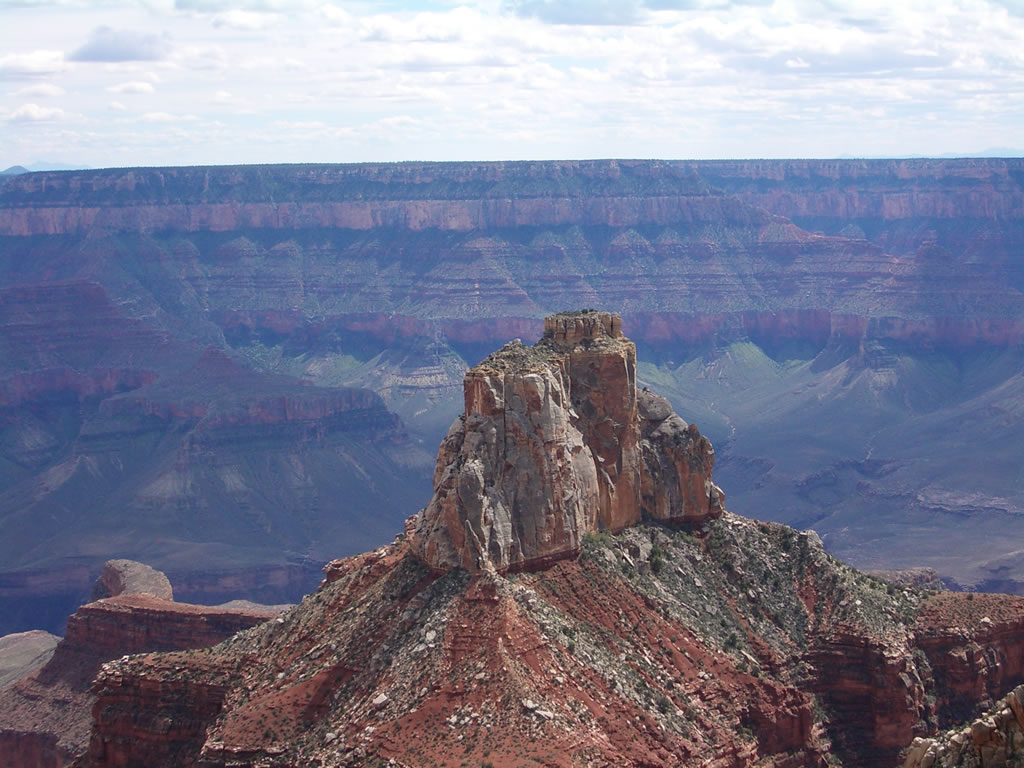 Zoroaster Temple from the summit of Brahma Temple.
We reversed ourselves back to the Brahma-Zoroaster saddle, doing the roundtrip in just under two hours. Now we traversed the hellish loose slope over to the top of the last fixed line. This last line was over vertical ground and we set up a rope and rappelled down the last two fixed lines in one shot. The final fixed line we could rappel down the non-knotted side of the rope.
We continued our backtracking to the Redwall and here we used the double ropes that were fixed here. Actually, these ropes aren't fixed and I almost made a fatal mistake here. In fact I probably would have died if it weren't for Homie going directly to the anchors to adjust the ropes and check the anchor. I had stupidly assumed they were fixed since I had read that in a report by an earlier team, so I had just threaded one of the ropes through my rappel device. I was getting onto the ropes about twenty feet down from where they were anchored to a tree. Thankfully, Homie noticed this and knew the ropes were not fixed. He said, "What are you doing, Bill? These ropes aren't fixed." I didn't realize at the time how close I had come to dying. Why was I so stupid? So lazy? Fatigue was probably some of this, but mainly it my concern for going so slow on the descent. I didn't want to be the weak link, but I having some rather severe knee problems. Everyone couldn't help but notice my painful hobble. I really wanted to be the first one down the rappel lines so that I could get a head start on the steep, loose, rocky descent back to the trail. I didn't want to be left behind. But nothing should cause me to take these stupid shortcuts and compromise my safety when only a quick check is required. I know this. You never use a fixed line without checking the condition of the anchor, the slings, the rings, the ropes, everything that is involved in the rappel. Hopefully I won't make this mistake again. Homie saved me this time and there better not be a next time.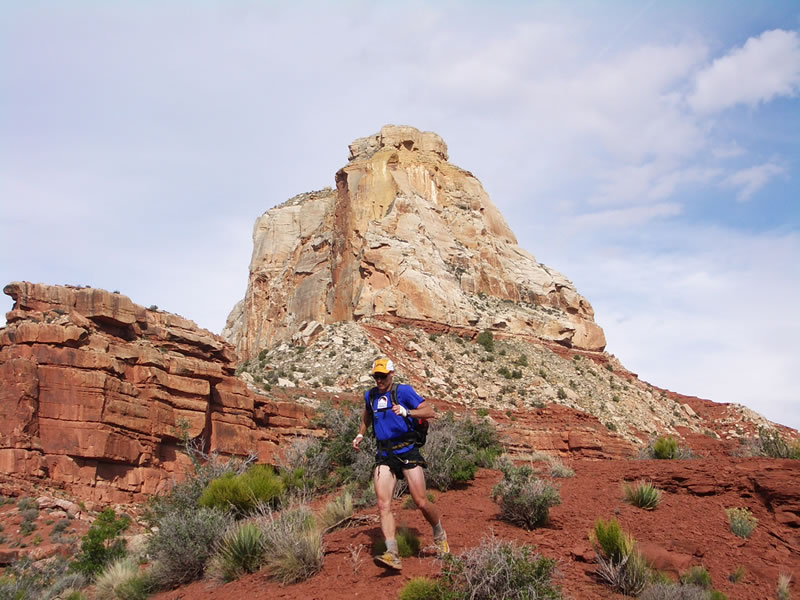 This is my attempting to trot down the slopes above the Redwall.
The difficult hiking down to the trail proved to be hard on me. The others all caught and passed me, but I kept up when they went by. I led most of the way out on the trail, while Buzz stopped to periodically to take photos and then he ran to catch up. I hiked as fast as I could, ready to trot whenever Buzz caught back up. We all marveled at the beautiful orange, pink and yellow flowers. Blooming pink and red cacti were everywhere. Stefan didn't do much running on the entire trip, but he's the fastest walker I've ever seen. He walks as fast as we run. Now, yes, we weren't running too fast, but he's still a potential Olympic walker medalist.
We ran into Phantom Ranch and into a large crowd of campers waiting to chow down at the Cantina. We tore off our packs and pulled out our water vessels to reload for the 5000 vertical feet of climbing still to come. The campers stared, mouths agape, as if we were some exotic desert beasts, which, in a way, we were. One asked Buzz, "Are you doing Rim-to-Rim?" Buzz says, "A lot bigger than that." He said, "Rim-to-Rim-to-Rim?" I said, "A lot bigger than that." Now he was totally confused. What could be bigger than that?
Stefan left first, saying he absolutely had to take off his pants and didn't want to do it in front of such a crowd. He was wearing long, black pants and had been roasting for the last couple of hours. He stripped off his pants at the Black Bridge and hiked nearly to the rim in just his skivvies. It was very European.
Earlier Homie had said that it was still possible to break 18 hours for the roundtrip. Of course I had already been calculating this. It's my nature. It was going to be tight though. Stefan and I opened up a gap on Buzz and Homie and I revealed my goal. We'd have to average a bit over 2000 feet per hour to make it. Normally, this wouldn't be a big problem and the first hour went down on pace, but then my energy started to fade. Buzz bridged up to us, saying that Homie was fine and just going his own pace.
All conversation ceased as we marched endlessly upwards in our tiny pools of light. With 1200 feet to go I announced that all we needed to do was climb Mt. Sanitas, one of the most popular hiking trails in Boulder. I counted off each hundred feet. Just before 10 p.m. we stopped to add some layers. Our depleted bodies could no longer generate enough heat against the cold breeze that was now blowing. Stefan said, "Well, if you guys are putting on long sleeve shirts, then I'm going to put my pants on." Now that's a line you don't often hear on a climbing trip.
We topped out at 10:20 p.m., 18 hours and 9 minutes after we left. Originally we were going to wait at the rim for Homie, but now things were desperate. We needed food, water, and shelter. We hiked the road for ten more minutes to the RV. Alan was snoozing, trying to get his full 12-hours of sleep per day. With the early start that morning it was more of challenge than usual but, dammit, this guy is dedicated. We burst into the RV and I don't think Buzz or Stefan even took off their packs before they dove into the refrigerator for food and started the microwave to warm it up. I immediately got into the driver's seat and drove the RV out to the trailhead, so that I'd save Homie ten minutes of walking.
After parking I ate as well. We rested and hydrated and watched for a glimmer of Homie's headlamp. We were committed to descending and helping him after an hour. By then we'd be strong enough to help. After fifty minutes, Homie arrived. He was done. He had been done for a long time, but persevered. He didn't say a word, his head hanging down. I know that look. I've seen it in myself a few times. He couldn't eat and wouldn't until the next morning. He couldn't speak for a long time. He had become nauseous with still more than 2000 vertical feet to go. He couldn't eat or drink to refuel himself and he was out of energy. The trip lasted a bit too long for him as well.
We slept right there in the parking lot that night, illegally parked. This time Buzz wasn't lobbying for a safer location. He just wanted to go to sleep. If the rangers came a knocking, we'd roll on out of there. They didn't and we slept. Buzz got up at 6 a.m. and started driving us toward home. We swapped drivers again and I wrote nearly this whole trip report on the way back. Alan was conscious for long stretches of the drive. It didn't snow on us. We'd passed the rest in the canyon and now the way home was clear.
This was a big adventure for us and we had a great time. Buzz said, "This was big ... when it takes five and a half hours of running, scrambling, routefinding, and up to 5th class climbing just to get to the BOTTOM of a climb, you know it's big. We had great companions, a great day, in the greatest canyon on earth, where just to sit on a rock and stare is a worthwhile activity ... this trip couldn't be better!" Even Alan felt the trip was worthwhile just to spend time in a place of such grandeur. I for one am even more motivated to try more temples in the big ditch and hope to return, this time to the north rim, in the fall.
Rough totals for the trip were 30 miles, 11,000 vertical feet of climbing, five pitches of roped climbing, tons of scrambling, six rappels (two on de-approach). Was it a speed record? Doubtful. I don't have the numbers for the Harder and Doskicz yet, but likely they were at least two hours faster for these two towers. Oh well, it was a great adventure.