Gettin' 'er Done -
Adventuring in the San Rafael Swell with Homie
April 16/17, 2004
Taxes were a crushing burden this year, like every year, but only because of my pathological, irrational procrastination. This year even more so, as I finally gave up, filed and extension, and headed west to the San Rafael Swell with Homie. He had devised a series of adventures too enticing to miss. He'd done four of the canyons we were to hike before, so I'd even have a tour guide.
We left town at 8 p.m. and arrived at Loobster's house in Grand Junction a bit after midnight, with Homie doing the bulk of the driving. We were surprised to see that everyone was still up: Loobster, his wife Martha, and Tom and Judy Karpeichik. They were out for three days of desert fun as well, starting with a mountain bike ride of the Jug Handle Loop in Canyonlands National Park. Loobster decided to join them, knowing that he'd be hard pressed to keep up with Homie.
The next morning Homie and I left first, at 6:45. Two hours at a steady 80 mph put us at the Swell and soon we were parked at the trailhead for Ding and Dang Canyons. Our plan was to ascend Ding Canyon, then climb the mountain called Ding Dang Dome, and finally to descend Dang Canyon. Both of the canyons were slot canyons and we could find ourselves getting a bit wet. We packed up a single 8.2mm, 60-meter rope, a small rack up to #3 Camalot, harnesses, climbing shoes, 100 ounces of water, a long-sleeve shirt, and some food. We wore shorts and short-sleeves and hit the trail at 9:30 a.m. at a slow jog due to our packs.
After 12 minutes or so we arrived at the split in the canyon and beared right up Ding. This is a fun canyon and it went pretty quickly. We didn't encounter any water and before an hour had passed we were hiking up the lower slopes of Ding Dang Dome, piecing together a route. We had no information about any routes on this mountain and though we think it must have been climbed before, we saw no sign anywhere on this mountain.
We left one of our packs at the base and soloed up the lower part of the mountain, which started with a short section of 5.6 climbing on very questionable rock. Above this short barrier we climbed a couple of neat chimneys via some cool stemming. Still unroped, we moved up over easier 3rd-class ground approaching the final headwall. The total vertical for this mountain was five hundred feet, but the first four hundred feet had gone very quickly. We scoped out a couple of options for the final headwall and roped up. Homie took the lead and moved confidently up this scary section. I'd call this climbing 5.6 R+. The rock was very bad, it was steep, and the gear wasn't questionable and infrequent. I followed cautiously and then did the final scramble to the summit, just two hours and one minute after leaving the car.
We lounged on top for twenty minutes. I watched an endless stream of hikers exit the top of Ding Canyon and traverse beneath us to drop into Dang Canyon. It was popular today and with good reason. The weather was perfect, maybe even a bit too hot at 80 degrees. Homie busied himself by scouring the summit for a register. He'd lay on his belly and look into the tiniest cracks and gaps. Alas, nothing was there.
<![if !vml]>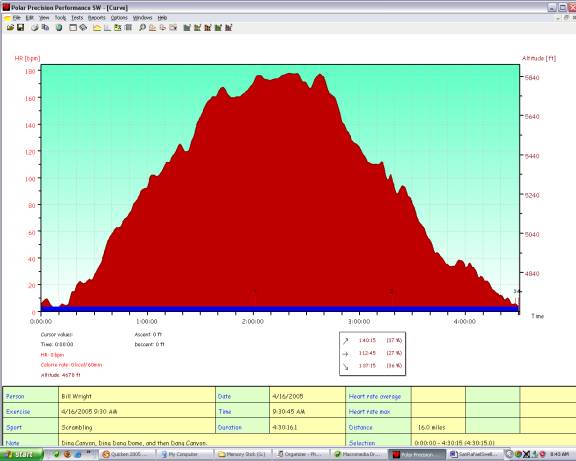 <![endif]>
Figure 1: Profile for the Ding Dang Dome Loop.
Eventually thoughts turned to descending and this was going to be an issue. There was no fixed anchor on top and no crack solid enough to risk our lives, even if we did want to leave the gear beyond. Homie finally decided to tie our two rappel slings together and loop them around a big, flat horn. The horn was made up of horrible, crumbly rock, but it was 18 inches across and two feet long. With your fingers, you could probably have chipped the entire thing away, a small piece at the time, but trying to pull the entire horn off in one pull seemed highly unlikely. Homie clipped in and rappelled down. I followed, stopping halfway down to retrieve the pack we had left and then continued down to Homie on a steep, loose slope. We pulled and the ropes barely moved. With lots of effort, I pulled down only ten feet of rope. I tossed the end to Homie, who had a better angle and I went off trying to find a way up to the ledge above for a better pull. While I scrambled up, right, up, and back left, Homie solved the problem by pulling down the entire rope. Good job, Homie!
We coiled the rope and reversed ourselves back down our route, finding the second wide chimney to be even more gymnastic on the descent and pushed our limited flexibility to our limits. The final 5.6 section was also scary, especially when Homie broke off a key handhold and remarkably didn't fall to the ground. He was only ten feet off the ground when it happened, but the landing wasn't pretty and a fall would likely have resulted in injury.
Back on the ground we re-packed and headed off down Dang Canyon. We caught and passed a huge group (20+ people) at one of the crux sections. They were using a rope to belay/lower people down a short steep section. One girl in their party downclimbed this section and we were impressed until she got a bit careless at the end, slipped and bounced down about ten feet before another in their party pinned her to the slab. Ouch. We walked by, hardly using our hands, on an exposed, small ledge. Further down we did some fun, horizontal stemming and chimneying past section narrow, water-filled sections, completing the descent "dry."
We talked a bit about the doing a canyon descent without getting wet. My friend Buzz seemed to think you should just plunge into the water and get wet. I see no point in this and derive some pleasure from the technical challenge of staying dry as long as possible. We could have waded through the water in these slot sections, but it was fun to see if we could chimney over them instead. The water aspects of canyoneering and indeed cool and part of the appeal, but, for me, only if it isn't contrived, only when you are actually required to get wet.
Once out of the slot canyon, we jogged the rest of the way back to my truck and had some lunch. The two canyons and the ascent had taken us just under 4.5 hours. Within the hour we were at the next trailhead, though, this time to do the Little Wild Horse Canyon / Bell's Canyon loop. Little Wild Horse is a hugely popular slot canyon and rightfully so. It is the coolest, narrowest, windiest non-technical slot canyon I've ever seen. This hike is ideal for kids and they will love the adventure of this wild place. I was disappointed not to have Daniel and Derek with me and I plan to return with them.
<![if !vml]>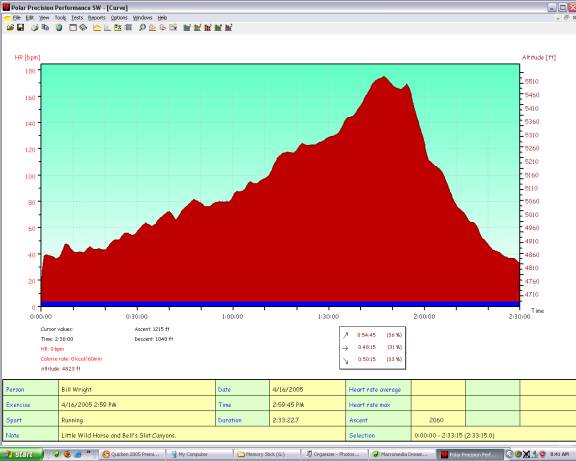 <![endif]>
Figure 2: Profile for the Little Wild Horse / Bell's Canyons Loop.
Little Wild Horse was completely dry, as was Hell's Canyon, but we still had to use our chimney/stemming techniques to pass parties coming the other way. The canyon is so narrow that this is the best way to let them pass us. We got to the top of the canyon and hiked the long, hot connecting trail over to the descent into Hell's Canyon. We met a party of four that told us about a 15-year-old kid who was separated from his scout group and wouldn't budge. We told them we'd try to convince him to come down with us. But then we never saw him… Thirty minutes later we saw a scout leader heading up the trail looking for him. Eventually a big search would be mobilized for this kid. Sure he's a doofus for getting lost up here, but that goes doubly for the scout leader who left him behind.
We ran quite a bit on the way out, 30-40 minutes. This is supposedly a 9-mile loop and we took just under 2.5 hours to complete it. By now our legs were telling us they were done for the day and we heeded them. We drove over to the trailhead for Temple Mountain and made camp in the huge, deserted, dirt parking lot. Little did we know that this was ATV central. Tons of ATV's came down out of the desert hills, returning to camp. Some would ride over to our parking lot to use the bathrooms. A woman rode over with a kid so small he couldn't reach the running boards with his feet. That didn't stop him from driving circles around the parking lot while his mom use the facilities. Thankfully he was wearing a full-face helmet. He'll probably be winning the X-Games before he's allowed to drive a car.
We had relaxed, read, plotted the next day, had dinner and hit the sleeping bags. Around 9:30 p.m. a pick-up pulled up to the nearby duker and out piled two guys and two girls, all taking turns in the potty. They were loud and obnoxious. There was talk about "if the truck's a rockin', don't come a knockin'", but the best was when the guy came out of the duker and announced, in classic cowboy voice, that he "got 'er done," referring to his successful bowel movement. That became the theme for our trip. We were getting things done. Ding Dang Dome? We got 'er done. Four canyons in one day? We got 'er done. Tomorrow, we get Mt. Temple done.
The next morning was chilly and we moved slowly, not even getting up until 6:45 a.m. We ate breakfast, read some more, and lounged around before packing for next adventure: an ascent of Mt. Temple. The guidebook said this mountain wasn't the technically challenging at 5.0, but that it was very exposed, very loose, quite dangerous, and recommended for "experts only." We figured this was just to warn off hikers and figured we'd be fine sans rope, harness, and climbing shoes, though I wore my scrambling shoes. We packed small Camelbacks with water, some food, and our cameras and headed off at a slow trot at 8:15 a.m. We also planned to circumambulate the peak. This was a 7-mile loop.
Less than fifteen minutes into run, we were off route. Instead of turning back, we climbed a very steep, loose wall above an abandoned mine to game the dirt road above. Temple Mountain was first mined back in the 1930's for radium – an element highly prized Eurpeans for its purported magical healing properties. The clueless Euros drove the price to $210,000 per gram! Eventually, reality set in, apparently the last time, and the price collapsed, as did the mining on Temple Mountain. Decades later uranium demand would resurrect the mining here and the mountain is laced with abandoned mining roads.
We headed up the confusing matrix of mining roads, traversing around the huge, prominent, south summit of the mountain and heading for the southeast face of the main mountain. We stayed a bit too high and eventually had to traverse a steep, loose slope, descending a bit to gain the main ascent gully. We had a route description for this mountain, but it wasn't very good and didn't match up very well with this big, confusing mountain. We followed our instincts though and found the path of least resistance. In fact, I'm not sure you could climb this mountain any other way. The upper ramparts of this mountain are guarded on all sides by a vertical cliff band, with only one section that seems easier than 5.10. But before got to this band, we climbed through the lower slopes.
The first interesting section was a white slab of sandstone that was reminiscent of our beloved Flatrions, though this rock was much softer and sandier. We climbed sixty feet of this to easier ground, with the crux probably 5.4 or so. We then headed up lots of 3rd class terrain to the final wall. After ruling out the wall on the left, we made a scary, dangerous traverse to the right, above a vertical wall of at least a hundred feet. The rock was very bad here, but it was only about ten feet of climbing. Once across, we were below the only weakness in the upper wall. There were two options here, both steep, both loose. We decided on the right option, which climbed the wall at an angle and appeared to offer a number of respites from the stress. I found the climbing here thoughtful. If you were careful, you could climb completely on solid rock, though totally immersed in rotten rock. Homie found it perhaps a bit more stressful than he'd prefer.
Once through the rock band, we scrambled up onto the east summit, which we knew to be ten feet lower than the main, west summit. This involved more loose, 5th class scrambling, but not very much of it, maybe fifty feet. We then had to traverse to the west. A lot of this was easy, on a broad ridge, but a notch in the ridge nearly halted us. We looked down one steep chimney and it didn't appear to touch down. On the point was a vertical wall and rock looked questionable. On the left was a vertical corner that led to a one-foot ledge that could be traversed for fifteen feet to a possible downclimb. Homie took one look at this last option and said, "No way." At this point I think he thought the ascent was over for him. I downclimed the corner and traversed the ledge. This is all above a hundred foot drop, so indeed the exposure was serious. I made it around to the point and was able to downclimb the final ten feet at probably 5.7.
From my vantage point, I could see that the original chimney looked like it would work and I convinced Homie to give it a try. He downclimbed it almost to a sloping ledge of gravel and then jumped the final few feet. He felt that was safer than to trust the horrid rock. We had to pass one more gendarme and a final short steep section, but we were soon on the summit. There was no register on top, but there was a geological survey marker from 1938! We were impressed with their earlier ascent.
Homie was a bit distressed about the descent. It was the classic situation where you can't fully celebrate on the summit because of the dangerous descent to come. I've experienced his a number of times, most recently with our ascent of Mt. Alberta in Canada, with Homie as it turns out. Here I was confident in our descent, though. Homie and I explored a couple other descent options before ruling them out as suicidal. Homie even retrieved a section of boating rope (like a water skiing rope) from where his chimney met the sloping ledge. This rope descended only thirty feet or so down the hundred-foot cliff to the north. I wondered what the story was behind this rope. It was barely girth-hitched to a delicate flake. Curious.
We eventually just downclimbed out ascent route and Homie was solid and careful and things went fine. Back down at the mining roads, we continued around the mountain for our loop. We continued to be confused by the roads as well, but we made it around. Running the last 20-30 minutes and finishing four hours and three minutes after we started.
We had some lunch and relaxed a bit before heading for the next adventure. There has been some recent route activity on the San Rafael Swell Reef. Homie describes the Reef as a 20-mile long sandstone Flatiron and that's a great description. This Flatiron is occasionally broken by canyons, but they are generally narrow. Just like the Boulder Flatirons, the east faces are slabs and the west sides are vertical to overhanging. The Reef is huge, averaging at least a thousand feet high, and it's sandstone slabs and considerable smoother and softer than our beloved local slabs.
One route that appealed to us for a quick introduction was called "A Thousand Feet of Fun." This was a 5-pitch, 5.6 slab route located in Three-Finger Canyon. Apparently this canyon was a cherished spot of moonshiners. They'd use the water collecting in the potholes to make their alcohol and their vantage point allowed them to see the law coming  for ten or twenty miles to the east.
After one false start, we found the 4WD road leading to the trailhead. We geared up with two ropes, since the descent was to rappel the route and each pitch was nearly 200 feet long. After only 11 minutes we were at the base of the route. It looked so easy to me that I immediately suggested just taking one rope and hopefully finding a way to gain the hiking gully on the right as our descent route. I figured, worst case, I could just downclimb the route. The first three pitches were rated 5.2, 5.3, 5.3. Homie took the lead and I simulclimbed behind. Each belay was a nice two-bolt anchor, but there was no fixed gear on each pitch. We carried a rack of six camming units: two red Aliens, two red Camalots, a #2 and a #3 Camalot.
Homie didn't place a single piece of gear on the third pitch and we quickly dispatched these first three. The climbing was easy, but it was fun and a cool line. The third pitch, supposedly the crux at 5.6, had one steep section that was surmounted by grabbing a few key huecos. The rest of the pitch was easy and I didn't place any gear. I belayed Homie up and then I led the last pitch, rated 5.5. There is a crux bulge on this pitch and the holds over the top aren't very good. There is no chance for gear here either. I felt this was the hardest climbing on the route and the most dangerous. I backed down once before cranking over the top. It was probably only 5.6 or so and only five feet worth of climbing, but it did give me pause.
At the top of this route, there is a ledge right on the edge of the Flatrion. Here there is a register. We stopped here to read and sign the register. I saw the name of my ACE colleague Crusher Bartlett signed here. The climb doesn't go to the top of the formation, though. At this point I really wanted to top out and find an easier way down because I wasn't excited about the unprotected downclimb over the bulge on the last pitch. I spied a nice crack up and right that ledge through a bulge and hopefully to easier ground. I delicately worked my way over to the crack, slammed in a #3 Camalot and jammed the crack through the bulge. This is probably 5.7 climbing. I belayed above on the arête. Homie followed and led the last, long pitch up and across the big, red, loose slab to our descent gully.
Once here, we coiled the rope and continued up to the summit of the formation we were on. It was just a point along the huge Reef, but we had to "get 'er done." We snapped some photos and started our descent. Downclimbing this hot, loose talus gully wasn't the highlight of the day. Homie asked him quizzically, "We didn't take the second rope, because we were too lazy to carry it?" Clearly downclimbing this gully was many times the effort in carrying an extra rope. I woudn't recommend this approach to future climbers, but it was a fun adventure for us and we got in two extra pitches and a summit.
We hiked back to the car and pointed the truck for home. As I conclude this report, it is now 8:30 p.m. Homie is driving and we're just heading up Vail Pass. We should be home by 10:30 p.m. Not a bad weekend. Thanks for the tour, Homie. And the trip report? I got 'er done before we even got home…