"I'll take Canadian mountains beginning with the letter 'A', Alec.".......... 1
Sunday, July 30th:            Taking the Road Less Traveled...................... 3
Monday, July 31st:           The Matterhorn and its Satellites................... 5
Tuesday, August 1st:         That's 5.5!? And a Forced March.................... 6
Wednesday, August 2nd:   Chinaman's Peak and Raptor on EEOR............. 7
Thursday, August 3rd:       To Rest or Not To Rest? That is the Question.... 11
Friday, August 4th:           Andromeda Stress................................... 12
Saturday, August 5th:        Satan's Minions Visit Canada....................... 13
<![if !supportEmptyParas]> <![endif]>
Canada is such a wonderful place. It is a huge country, the second largest, behind Russia, in the world. While it's vast in area, it has hardly any people. The total population of Canada is less than the population of California. The Rockies of Canada aren't very tall in comparison to the peaks in Colorado, but the vertical gains are vast and the mountains are much more precipitous. No mountains are over 13,000 feet and only four break 12,000 feet. The Canadian Rocky analogy to the Colorado 14ers is the 11ers – peaks over 11,000 feet.
The table below shows all the mountains over 11,000 feet in the Canadian Rockies. The mountains in bold indicate that I have climbed them.
Rank

Mountain

Area

Elevation
(feet/meters)

1

Robson

Robson Provincial Park

12,??? / 3954

2

Columbia

Columbia Icefield

/ 3747

3

North Twin

Alberta Area

/ 3731

4

Clemenceau

Clemenceau Icefield

/ 3658

5

Alberta Area

/ 3619

6

Assiniboine Provincial Park

/ 3618

7

Forbes

Icefields Parkway

/ 3612

8

South Goodsir

Field

/ 3562

9

Temple

Lake Louise

/ 3543

10

North Goodsir

Field

/ 3525

11

Bryce

Columbia Icefield

/ 3507

12

Hungabee

Lake O'Hara

/ 3492

13

Columbia Icefield

11,??? / 3491

14

Kitchener

Columbia Icefield

/ 3480

15

Victoria

Lake Louise

/ 3464

16

Columbia Icefield

/ 3450

17

Joffre

Kananaksis Country

/ 3449

18

Resplendent

Robson Provincial Park

/ 3426

19

Tsar Mtn.

Clemenceau Icefield

/ 3424

20

Deltaform

Lake Louise

/ 3424

21

Lefroy

Lake Louise

/ 3423

22

Sir Douglas

Kananaksis Country

/ 3406

23

Woolley

Alberta Area

/ 3405

24

Whitehorn

Robson Provincial Park

/ 3395

25

Hector

Icefields Parkway

/ 3394

26

Diadem

Alberta Area

/ 3371

27

Huber

Lake O'Hara

/ 3368

28

Jasper

/ 3363

29

Fryatt

Fryatt Creek

/ 3361

30

Tusk Peak

Clemenceau Icefield

/ 3360

31

Perren

Lake Louise

/ 3351

32

Shackleton

Clemenceau Icefield

/ 3330

33

Cromwell

Alberta Area

/ 3330

34

Biddle

Lake O'Hara

/ 3319
<![if !supportEmptyParas]> <![endif]>
Heavily glaciated, the Canadian Rockies take on the appearance of the Alps. The climbing routes are similar to the long, classic routes of Europe also. The difference is wilderness. Nowhere in Europe can you be far from an instant rescue. In the Canadian Rockies, if things go wrong, you're on your own…
The Matterhorn, in Switzerland, is perhaps the most famous mountain in the world, undoubtedly in no small part to its awesome aspect and incredible beauty. It is the standard by which all other mountains are judged. The greatest compliment to bestow on a mountain is to compare it to this Swiss peak. The Matterhorn also has a tremendous climbing history. These two qualities led me to climb it in 1989.
<![if !vml]>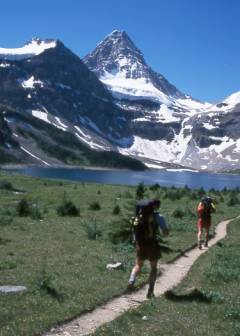 <![endif]>Ama Dablam is known as the Matterhorn of the Himalayas; Mt. Aspiring is the Matterhorn of the Southern Alps (in New Zealand); Colorado and California have peaks called Matterhorn Peak. But perhaps the best look alike of them all is Mt. Assiniboine in the Canadian Rockies. It is probably the most photographed mountain in the Canada and is the unofficial mascot of the range.
Previous to this trip, I'd done a bit of climbing in the Canadian Rockies and the Trashman had done even more, but Homie was a Canadian virgin. We took my RV up on a Friday night, towing a replacement driver for Homie. He was chaperoning a church group on a river rafting vacation. We swapped out Kelly for Homie in Bozeman, Mountain after driving through the night until 4:30 a.m. After a couple hours of sleep, we headed further north.
On the drive up, an ambitious Homie would state, "I don't need rest days." A bit later, after finding a 5.5 route description in the guidebook, he'd say, "5.5? I solo 5.5." I thought these comments would come back to haunt him for I've had plenty of trouble on a mere "5.6" route (the Perrin Route on Mt. Whyte above Lake Louise) in the Canadian Rockies.
Getting around Calgary was the usual nightmare, even on a Saturday afternoon. This place has grown to almost Denver sized proportions and with good reason. It is one hour away from some of the best mountains on earth. We got to Canmore around 4 p.m. and checked conditions: weather and climbing. Both sounded good for the next few days and we drove out to the trailhead along the dirt Spray Lakes Road and packed our gear.
The approach to Assiniboine is long. It is a 27 km hike into the Assiniboine Lodge, an expensive mountain retreat normally accessed via helicopter. From the Lodge it is an additional 2-3 hours to get to the Hind Hut, poised below the classic North Ridge of Assiniboine. Only a couple years ago one could ride mountain bikes most of the way to the lodge, but Park Service shut it down. Helicopter service into the area is available and popular. It cost $100/person one way. Personally, I have absolutely no ethical reservations with taking a helicopter on the approach. I balked a bit at the price, but even that wasn't enough to stop me. What did stop me was the schedule. We'd have to wait a day or more to get started as the helicopter was booked up. We decided to hoof it and packed light in anticipation of serious fatigue.
<![if !vml]>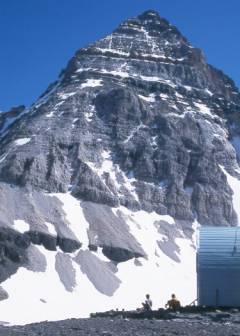 <![endif]>The North Ridge is rated 5.5 and is about 3000 feet long, but most of the climbing is 3rd or 4th class. We took a single 9mm rope, four cams, four pins, some stoppers and six longs. We each took helmets, harnesses, crampons, and an axe.
It took us just about five hours to reach Assiniboine Lodge, where we took a rest of over an hour. Then we proceeded up the Hind Hut. We could climb the snow gully directly to the Hut instead of taking Gmoser's Highway – an intricate 4th class route up the rock wall to the right. We crossed the moraine to the base of the snow gully and then started kicking steps. Looking up at the long, steep gully, Trashy asks me, "How long will it take us to climb this snowfield, Bill?" Turning on my MP3 player, I said, with a big smile, "About ten songs."
Homie led initially and then stepped off to the side with the comment, "I'll let the real climbers lead the way." Damn, I was hoping for steps clear to the hut. Trashy led for a while and then, regrettably, I had to take my turn at the front. The climbing was very steep - probably 50 degrees or more. With a single tool and hard snow, this made for exciting climbing. A fall here would present little chance for a self-arrest.
At one point, high in the gully and tired from the effort, I bent over a took a short rest. My MP3 player was blaring Nirvana's "Mary" and while they sang, "Mary…Mary…Mary…" I rested and then pounded up the slope as they sang, "Yeah, yeah, yeah, yeah." This song has a great cadence for this sort of climbing.
After well over a thousand vertical feet, the angle started to roll back. The North Ridge loomed above me, but I veered to the right and up to a rocky bump where the Hind Hut was located. I made the hut in 1:50 from the Lodge. Our totals for the day were about 31 kilometers of hiking and 4300 vertical feet in just over eight hours.
The Hind Hut is a metallic half cylinder large enough to house sixteen climbers, though I'd hate to be there when it was that crowded. In the hut there is a kitchen consisting of a sink (no running water, but the sink drains out of the hut), a three-burner propane stove, and a reasonable collection of pots, plates, cups, and utensils. A large table and chairs fill half of the hut and the remainder is taken by a two level platform covered in "Foamies"  - 4 inch thick foam pads. We were paying $15CD/night for this shed, but it was a palace compared to a tent and we didn't have to carry a stove, tent, or pad on the long approach. There was no lighting of any kind in the hut, but we had our headlamps. Plus there was a window over the sink so natural light entered during the day.
<![if !vml]>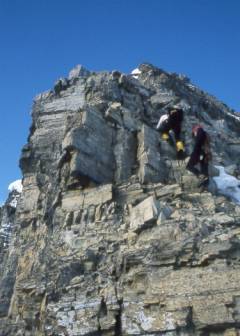 <![endif]>One of best aspects of climbing in Canada is the lack of people and especially climbers – at least once you get away from the trailhead. I don't think Canadians have any less love of the outdoors than Americans, but there are so many less of them. As far as climbing is concerned, it is full on alpine climbing and only in selected locations (Colorado) are there any significant quantities of these masochists. This trip was no exception. In the hut was gear for two climbers who were up on the North Ridge. We'd have them for company the first night and then have the hut to ourselves.
We lounged around outside of the hut in perfect weather. We watched the pair of climbers descending the North Ridge. They were painfully slow. It took them three hours to descend from below the Red Band back to the hut. We hoped it was they and not the route causing such a glacial pace.
When they arrived at the hut they introduced themselves as Jeff and Reinhard – two climbers from Vancouver, B.C. This was there first foray into the Canadian Rockies and they weren't impressed. Jeff said the only fun he had on that climb was the brief glissade after stepping off the bottom of the ridge. He characterized the rock as horribly loose and impossible to place protection. They had gone up in five hours without using crampons or roping up, but the descent was a different story. They did numerous rappels to avoid downclimb the horrible rock and it had taken six hours. Reading the hut logbook, we discovered that it was not uncommon for parties to take longer to descend this route than to climb it. This is certainly reasonable when you have to downclimb most of the route. I remembered when I climbed the real Matterhorn that it had taken six hours to ascend and an equal six hours to descend that mountain.
Jeff was quite a talkative guy and probably in his late 30's. Reinhard was 60 years old and had apparently caused Jeff to descend much slower than he could have alone. When Jeff arrived at the hut, well ahead of Reinhard, he made it clear to us that this was the case, saying, "Without Reinhard I could have descended three hours faster." Later, once Reinhard arrived and while Jeff was putting stuff away in the hut, Reinhard said, "Jeff could have descended faster without me. Probably two hours faster. Maybe only an hour faster." We wouldn't have this problem, as we were all very equal in speed on this type of terrain.
<![if !vml]>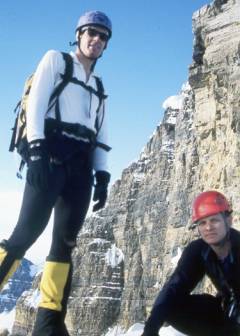 <![endif]>The alarm went off at 5 a.m. as it would everyday throughout this trip. What we lacked in early morning alpine starts, we made for with consistency. We had packed the night before so we just need to dress and eat. Nevertheless, we dragged our feet until nearly 6 a.m. We ignored Jeff's advice and set a straight course for the snowslope leading up to the ridge. We figured that in the Canadian Crumblies it was better to stay on snow as long as possible.
Homie got into the lead and kicked steps clear to the base of the ridge. I felt he really wanted to lead this section since he didn't anticipate leading much of the remaining route and wanted to do his part. As it turned out, there really wasn't any leading to do on this climb. Homie is very fit and quite competitive with me. For the entire trip I felt we were trying to out do each other. Competition can be a good thing in that it pushes you to go faster, longer, harder, etc. but there is a lot to be said for cooperation and teamwork also. We had plenty of the later also, but it was a slightly different dynamic for me on a climbing trip.
Homie and I started up the route to give the Trashman some privacy for his morning constitutional. We moved up over ice and rock, which would proved to be some of the trickiest few feet of the climb. Above nice 4th class scrambling led to 3rd class scrambling and we covered ground fast. Yet, as quickly as we moved, the Trashman had caught us. Of course, he was the new, improved lightweight Trashman made especially for alpine climbing. Once he had dropped the dook (pronounced: duke), every hold appeared larger; the path was clear; the air was thick. As if transported to a higher climbing plane, the Trashman moved effortlessly. "Free the Dook, and the Mind Will Follow…"
We followed a path up the ridge through some loose scree. This section isn't as horrible as described by Jeff and Reinhard or the others in the hut log. The rock underneath is actually very solid, but the lower angled sections are covered in lots of rubble. But a path through this section made the going quite reasonable.
We went up Assiniboine in 2.5 hours, spent a half hour on the summit, and then came down in two hours. We then lounged around in the sun before heading inside to avoid sunburn. Trashy and I took a nap and Homie stared at the ceiling. At 4 p.m. I finally shook off Hut Lassitude and headed up. I soloed up the aesthetic east snow ridge of Mt. Strom (3022 meters). At the top the snow became nearly 60 degrees steep. This involved about 900 vertical feet of climbing. While I was doing this Homie and Trashy climbed the neighboring Wedgewood Peak (2939 meters). I then traversed between the peaks, doing some dicey climbing to cross an ice couloir without putting on my crampons. Further up on Wedgewood, after climbing a steep snow gully to a vertical headwall, I soloed up this 75 foot 5.5 wall. It was much more difficult than anything we had done on Assiniboine. I continued up to the summit of Wedgewood where Trashy and Homie were kind enough to have waited for me.
<![if !vml]>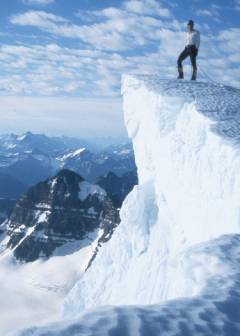 <![endif]>As we started our descent, Homie says, "The race is on for the hut!" We followed this immediately with "Not!" but I would try to keep up with him anyway. I nearly matched him on the steep talus, but then I could take to the snow since I was in my mountain boots and had an axe. Homie was in his approach shoes. I shot out to a huge lead and got back to the hut well before Homie. He was stopping on the way down to photograph birds. He even decided to get a field book on birds. Pretty soon he'll be telling me, "I can't go climbing this weekend, Bill. I have a bird outing planned."
I had bagged the two peaks in about an hour and a half and got in another 1500 vertical or so. Homie, a peak-bagging enthusiast, could not have me bagging an extra peak and pulled on his big boots so that he could head up Mt. Strom. He's so competitive – even more than I am!
The next morning we were hiking down by 7:24 a.m. Down frontpointing the couloir was tiring and stressful – especially for Homie who isn't as experienced as Trashy and I. Once the angle lessened, I switched to facing out and using French technique. This required the occasional whack of the ice axe to the crampon to clear the balled up snow, but made for much faster going.
We made the Lodge at 9:14 a.m. and stowed our gear there for an attempt on Sunburst Peak. We left the lodge at 9:40 and made the base of the route at 10:37 a.m. where we blanched. The route was vertical to overhanging and huge. Plus it was very difficult to determine which way to go. Homie declared he wasn't going up it. The weather turned cold and we got to thinking about the 20-mile hike out. I bouldered up the first pitch and found it tricky in my approach shoes. It was too ambitious. We turned tail and got back to the lodge at 11:30 a.m.
We started hiking out from there at 12:30 p.m. and decided to take the slightly longer route over Wonder Pass so that we could see two trails. The walk out, over Wonder Pass was at first beautiful, and then, on the other side of the pass with views of Assiniboine's Southeast Face and "Little Alberta", awe inspiring, and finally the walk out was endless. It took five and a half hours to slog back to the RV where we immediately devoured Homie's chips and salsa in what is fast becoming a ritual after a long march. The route out was 32.5 kilometers and involved 2420 of vertical gained and 5500 feet of descending on the day. This had all of us crying for relief. It felt so great to finally stop. We got back to the RV at 6:18 p.m. It had been an 11-hour day.
Relaxing in the RV I had a chance to hook up my notebook PC to the RV stereo via a cassette adaptor. Once hooked up, we could play the 300 MP3 songs I had stored on the computer's hard disk. It was very cool. I need to get a DC power adaptor for this computer and then I'm all set with songs and even digital books for long road trips. I was in geek heaven.